COSMIC RIDERS
Revue de presse et chroniques délirantes
Spécial Spacious Mind
Les Spacious Mind semblent avoir quelque peu disparus de la circulation (malheureusement) mais j'ai retrouvé la trace de Jens Unosson.
JENS - Standing in the trees I get lifted by the leaves – 2002
Nettement moins psyche / Space Rock que la musique de Spacious Mind.
Jens et ses potes :

Jens - vocals, piano, organ, vibes, bells & rattles
Arne - electric and acoustic guitars, sitar, percussion, bass, harmonica, vocals
Niklas - electric guitars
Steve - pedal steel
Saga - vocals
David – drums
Ils produisent ici une musique beaucoup plus intimiste, de l'Acid Folk plutôt mélancolique (le chant susurré de Jens y est peut être pour quelque chose). En même temps, le Nord de la Suède c'est pas la Californie non plus hein ! Donc ça donne pas franchement dans la "Sunshine pop" mais attention, je dis mélancolique pas dépressif ! Mélancolique dans le sens où ça invite à la rêverie solitaire.
C'est très ... champêtre, le genre de musique qu'on s'imagine bien écouter sous la véranda, dans un rocking-chair, le chat sur les genoux une belle matinée de printemps.
CAULDRON - The Sanctuary Suite – 1998
Jens - electric organ, synthesizers, trumpet, belltree
Arne - electric & acoustic guitars, bass, sitar, nyckelharpa, pumporgan, saxophone, harmonica, tablas & assorted percussion

Pour les fans de Pink Floyd période Meddle, des grands délires psyché planants.

Le premier morceau commence par un son ressemblant fort au chant des baleines (c'est probablement le cas) puis vient s'y greffer un solo de guitare à la Gilmour, pas très compliqué, évanescent, aérien. Le tout se développe gentiment durant 20 minutes évoluant dans le paysage sonore évoqué par les claviers de Jens (la pluie qui tombe, des bruits d'oiseaux, d'animaux peut être ...) on pense à ce chef d'œuvre de l'ambient music qu'est le Chillout de KLF.
Et le reste de l'album (4 morceaux) se déroule ainsi pendant que vous entrez mine de rien en lévitation. Toujours ces ambiances sonores et puis un fond d'harmonica, des cornemuses qui jouent doucement mais au loin, et de la sitar aussi, évidement histoire de décoller pour de bon.


HOLY RIVER FAMILY BAND - Haïda Deities – 1996 / Earthquake Country – 2001
Quelques chroniques glanées ici et là :
"I guess the four songs on this disc (at 15, 12, 4, and 30 minutes) could best be described as Middle Eastern psychedelia. The percussion rhythms, horns, slowly improvising guitars, and chanting all come together to make some pretty trippy music...
The 30 minute "Vision Quest Of The Sanpoil" starts with what we can now consider a Holy River trademark of Middle Eastern percussion and various odd horn sounds. As in Fragrance, the guitar jams smoothly over the tablas. The band uses the song's length to introduce chanting, various acoustic instruments, electric piano, and horns, all emanating (rather than assaulting) from every direction. The tune stirred up some rather demented images of belly dancers in tie-dyed saris... quite a sight indeed!
In summary, exploration seems to be the ultimate objective of this music and in this it succeeds. When I first heard this CD I thought the theme became a bit monotonous over the course of an hour, but I kept being drawn back to it and now after several listens I enjoy it for its atmosphere of ethnic psychedelia. I'll be interested to hear what the next release brings."

"Stunning new CD from this amazing Swedish band with Spacious Mind and Cauldron members. Running time is over 76 minutes. Incorporating psych, deep folk psych and beyond. A true gem." From Tom Rapp's liner notes: "To me, music is psychedelic if it has the unmistakable presence of magic and it helps you to open up your heart and your mind. The Holy River Family Band, in this new CD, is wonderfully psychedelic, and this CD is a psychedelicatessen. Come on in and help yourself."
Je continue donc mon voyage parmi les nombreuses ramifications issues des Spacious Mind avec
RAD KJETIL & THE LOVING EYE OF GOD - Mattmar – 2006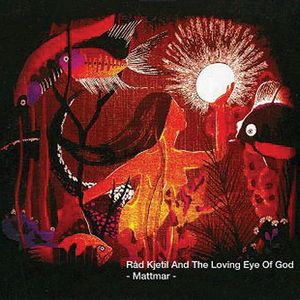 Nos amis de Head Heritage, toujours à la pointe de ... de ... de tout ce qui est bizarre, psychédélique, mystique, trippant, euh ... druidique, en dise beaucoup de bien :
"Those in search of dark underworld folk should try the deep mantric ooze of Denmark's Råd Kjetil And The Loving Eye Of God's MATTMAR on Goddamn I'm A Countryman Records. It's a hypnotizing trip that ploughs a similar vein to such '70s bands as fellow Danes Samla Mammas Manna and stuff on R.U. Kaiser's Pilz label, though this current album increases the boundaries considerably, stretching out into a Herculean quest for the sonic grail. Only in the last three minutes of the final epic 12-minute track 'Tjalen' do the drums kick in, announcing the album's tail-out in a style of high drama. It's available fromhttp://www.countrymanrecords.com."
Sauf qu'ils ne sont pas Danois mais bon ...
MOON TROTSKIJ - Fell But Andromeda Rose To The Stars – 2003
Henrik Oja - accoustic and electric guitars, bass, keyboards, percussion, vocals, programming, tapes, samples & digital treatments
David Sandström - drums & feedback
Jens Unosson - lyrics & creative input
"This is a 44 minute trip to another universe by Henrik Öja, former lead guitar player, now resident bass player in the Spacious Mind. He plays all the instruments except the drums, which are played by David Sandström. This was recorded up in Skelefteå at the Space Your Face studios. The CD is split into 3 tracks, for convenience I guess as the music is one long trip. It starts with a spaced out folky acoustic guitar and then the journey takes off into a place that is somewhere in between Hawkwind and Pink Floyd territory but then moves slowly back into the forests of your mind before taking off again. This is truly an incredible musical synthesis. Henrik is a fantastic musician with a very spaced out mind for making incredible music. This is highly recommended if you like to just trip out and go to another universe for 45 minutes. When can I hear the next one?????????"
Venukse